Sharing warm tea with loved one's or drinking some healthy beverages contributes to your over well-being in ways that impact your heart, soul and mind – it really is the little things that can make all the difference:)
There are a wide selection of hand-crafted flowering beverages, that blossoms inside your very own beautiful teapot that you can vision – right before your eyes. There are many choices of different teas and flavors that you can choose from and drink from with admiration and style,
TeaBloom are experts in the world of blooming teas and that nature of gardens itself is held inside every cup of tea you sip from or visualized in the teapot itself as above. A tantalizing experience like nothing else while you visualize a little garden within this range, while sipping earthly herbs and flowering whenever you want to!
I'm in Heaven!!!
As The Owner Of This Website, I've Tracked Down Special Deals For Some Of The Products And Services Mentioned Herein. When You Use The Links On This Page To Make A Purchase I May Get A Small Commission And You May Get A Great Bargain. It's A Win-Win All Round! Disclosure.
---
What Is TeaBloom about?
They specialise in reintroducing the art of brewing a perfect cup of tea every time, right in your warm kitchen at home! They have created extraordinary tea ware and collections that can spark anyone's imagination – a cup of tea with incredible visionary like no other!
The flowering teas are hand-sewn by artisans that use a range of edible dried flowers and high-quality tea leaves.
They are committed and care for each and every beverage within the range that with every teapot brewed within, it highlights the intricate and details of the magnificent displays of flowers and nature as if you can see a little garden inside the pot!
Each cup is beneficial with fusions of flowers or herbs, tinted with color and contains antioxidants for your body and mind.
You will find quality and superb items such as flowering teas, glass teapots, teacups and much more that'll leave you in a state of natural curiosity and wonder.
"Brew A Bouquet and watch your tea bloom," – it's as magical as that!
---
What Exactly Is available?
Choice, colors, flavors, details and designs… what cup of tea has all of this included?? – You must reveal! Well, I can reveal to you that TeaBloom offers this classic beverage to a whole other level that will turn heads by people all around you!
They truly understand that there are many places to purchase your loose teas and teabags that are perhaps found nearby to you, however Teabloom's teas are unique and perfect for family get together of fun quality time with friends and dear ones!
They include distinctive glass teapots and beverages that'll transform tea time to unwind, relax and be calm through the whole experience and can be shared with others as well!
Memorable tea times, that's for sure and smiling faces as others glance around at these blooming teas and tea ware such as:-
So many Teas – Tea canisters, Tea chests, Tea sets, Tea event boxes and tea duos!
TeaWare – Unique Teapots, tea tumblers and cups, Tea kettles, Tea infusers and tea ware as well as Tea Accessories.
Unique tastes and aromas – Celebration, eternal love, Royal, pretty in pink, Amore, Wings of love, Tea for one.
Gift Sets – Flowering tea sets, Iced tea gifts, Tea for One gifts, Wellness Gifts.
They aim to provide you with the best ingredients and materials in order to produce these fine exquisite products that can be enjoyed time and time again while sparking a bit of magic with every product.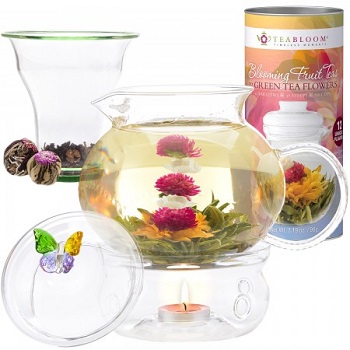 Let's take a closer look at the beautiful crystal clear teapot in more details:-
It is dishwasher safe and stove top safe. The instructions included to cook in the teapot are as follows:-
"Place tea flower pod in the bottom of the teapot and pour enough hot water above the tea pod (3-4 inches) to allow the flower to fully bloom. Allow to steep for 5-10 minutes as the tea flower blooms. Stir tea gently to even flavor, serve and enjoy. Tea flowers may be stored for additional brewing in a sealed container in the refrigerator for up to 48 hours (remove water)."
Detailed instructions, clear images and fully visionary of the usage of all equipment included so you know exactly what to do, step by step so you can easily create wonderful and decorative warm beverages anytime you like!
Don't forget the incredible flavors entailed such as fair lily, jasmine lover, floral passion, litchi, mango, peach, strawberry and so much more!
As The Owner Of This Website, I've Tracked Down Special Deals For Some Of The Products And Services Mentioned Herein. When You Use The Links On This Page To Make A Purchase I May Get A Small Commission And You May Get A Great Bargain. It's A Win-Win All Round! Disclosure.
---
Take Away Message
This is perfect for tea lovers and beverage drinkers that like to relax and dine with a hot cup of natural goodness with dried herbs and flowers which promote health benefits!
An amazing gift for practically anyone that loves timeless moments of classic teatime with friends or family and in need of some "me time"!
—>>>>> Please click on the image to simply check out the gorgeous sets and teas and get them first! —<<<<<
Big 5 Star Reviews from many customers that are highly satisfied with the range that is full of versatility and complimentary sets to choose from.
TeaBloom proudly serves across professional and disputable establishments such as " Hotel Bel-Air in Los Angeles", "Ace Hotel," and "El-Encanto within Santa Barbare."
These sets and products will never get old and many timeless elegant teas and accessories to adore your space with is guaranteed to leave beautiful aroma and delicacy in your lives.
Thank you for reading and if you have and questions or comments, please leave below and I'll be sure to reply back to you!